Demand for cybersecurity experts has never been greater.
Cloud computing, e-commerce, remote healthcare, autonomous cars and buildings. Our
world is increasingly reliant on cyber-based technologies, systems, networks, and
devices, and the safe, secure access to personal data. Your career in cybersecurity
will make an impact. Every day, hackers and cyber criminals launch new, more sophisticated
computer viruses, malware, and scams that threaten the data our society relies on.
In fact, it is estimated that cybercrime costs the global economy $600 billion a year.
What Is Cybersecurity?
Develop Next Generation Cyber Skills
Acquire theoretical knowledge and practical know-how to strategically assess, plan,
design, and implement effective cybersecurity defenses.
Learn best practices and techniques for software development, data assets design,
and the management and protection of valuable computing infrastructure.
Develop trusted software systems in an enterprise team environment. And you'll understand
the social, ethical, legal, and policy aspects of cybersecurity.
Choose Your Concentration
If you enjoy coding and want to develop secure and trusted software systems, this
is the concentration for you. Learning and adopting best practices and techniques
at each phase of the software development cycle is key to ensuring the strength the
security of software systems and applications. In the Software Security concentration,
you'll learn to systematically design, develop, deploy, and test trusted software
and applications. You'll find and fix common software and application vulnerabilities,
preventing attackers from exploiting them.
System and Network Security
If you prefer hands-on learning and want to secure IT systems and infrastructure,
this is the concentration for you. You'll learn to manage and secure computer systems,
networks, and IT infrastructure from unauthorized access, attacks, misuse, or damage
by implementing security processes, technologies, and best practices. You'll combine
multiple layers of defenses, implement security policies and controls, detect emerging
threats before they infiltrate the network, and perform critical functions within
a secure enterprise environment.
The MTU RedTeam
The MTU RedTeam, a student organization that promotes a security-driven mindset among the student
population, provides a community for those wishing to learn more about information
security. In spring 2021, the RedTeam competed in the National Cyber League (NCL)
capture-the-flag (CTF) team competition and placed third overall, and tied for first
in score (defeating more than 900 teams from across the country). NCL competitions
are a great way to gain experience in cybersecurity tools and boost your resume. Read
an article about the RedTeam's NCL win on the Computing News Blog.
---
CyberCorps: Scholarship for Service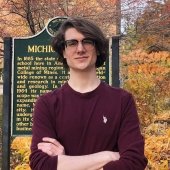 The Michigan Tech CyberCorps Scholarship for Service program is a national program to recruit and train the next generation of security
managers, IT professionals, and industrial control system professionals to meet the
cybersecurity personnel needs of federal, state, local, and tribal governments. Scholarship
benefits include full-time tuition and education-related fees, a generous stipend,
professional development opportunities, and more. Applications are due February 1.
Pictured is third-year Cybersecurity student Thad Sander, who is a recipient of the
CyberCorps Scholarship for Service. Read more about Thad on the Computing News Blog.
---
Internships and Careers
Recent Student Internships: CNSA, Cybersecurity, EET
Alliance Laundry Systems
Boise Cascade
C Jackson Electric and Automat
Caterpillar, Inc.
CCI Systems, Inc
Consistacom, Inc.
Cooper Power Systems
CSX Transportation
Doosan
DTE Energy
Enterforce
Expera
Extreme Engineering Solutions
GE Aviation
General Motors
Georgia-Pacific Corporation
Harley-Davidson Motor Co
Hitachi Global Storage Tech
Johnsonville Sausage, LLC
Los Alamos Nat'l Lab
Mass Electric Construction Co.
Material Handling Services, LLC
Mercury Marine
Michigan Consolidated Gas Co
Michigan Tech
MTU Systems Admin Svcs
Nemak
NewPage Corporation
Northern Star Industries
Nucor Steel
Packaging Corp. of America
Parr Instrument Co.
REMC#1
Sentry Insurance A Mutual Comp
Systems Control
Toyota
USG Interiors, Inc.
Wausau Paper
Cybersecurity response specialist
Cybersecurity engineer
Cyber threat analyst
Security operations specialist
Information analyst
Security policy analyst/manager
Security architect, programmer, or engineer
Forensics analyst investigator
Ethical hacker/penetration analyst
IT auditor
Application security specialist
Network security analyst
Information assurance engineer
https://www.mtu.edu/applied-computing/undergraduate/cybersecurity/